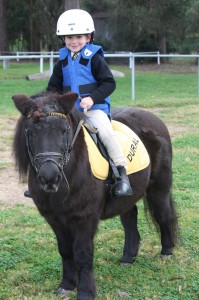 Dural Pony Club welcomes new members of all levels – from beginners on a lead rein to advanced riders who are active in competitions. Members can either own or lease their horse or pony. Two legged visitors are welcome to come to our rally days (1st and 3rd Sundays of the month) to see what we do. Contact us for more details.
The pony club holds a membership registration day before the first rally day of the year. We also welcome new members to join throughout the year and this can be organised by contacting our registration secretary. There are two types of members…
1. Full Pony Club Members – Members from 4 to 24 years of age who are affiliated with the Pony Club Association of NSW, ride at rally days and are eligible to take part in PCA competitions, Zone clinics, pony club events at agricultural shows etc.
2. Grounds Use Only – Members who are not affiliated with PCA through DPC (this includes any riders over 24 years of age) who use the grounds to ride independently when official pony club events are not scheduled.
Only Dural Pony Club members are authorised to ride on our grounds. A key is required to gain access if you wish to use the grounds on days other than gazetted pony club events. The lock is changed each year and keys can be exchanged free of charge annually.
Membership Rates for 2020

1. Full Pony Club Membership (Full Year 1st Jan-31st Dec)
One child: $265
Two children: $380
Three children: $435
Four children: $475
Parent grounds user: $150
Grounds Key: $15
** Grounds maintenance bond: $150
2. Grounds Use Only
Per Person: $400
Grounds Key: $15
** Grounds Maintenance Bond: $150
This is for riders who are not involved with rally days and pony club events but who use the grounds to exercise their horses independently.
** We ask all members – regular pony club and grounds use only members – to attend three maintenance days throughout the year. These days are traditionally held on a Saturday, and run for a few hours. If members attend the required three maintenance days, they will not pay the bond when renewing next year, or can apply to have the bond refunded if they do not renew in 2021.
A person who has been a member of a club during the preceding five years shall obtain a transfer from that club before joining another, irrespective of lapse of membership. The member can not represent the new club in competition for a thirty day period after the transfer.
If you like to Join us please contact us