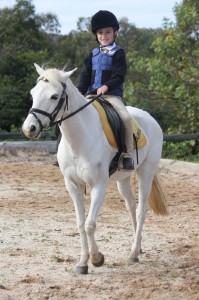 RALLY DAYS
'Rally days' are our regular meetings and are held on the 1st and 3rd Sundays of the month from February to November, including school holidays.  Pony Club accredited instructors (volunteers) provide supervision and instruction on the different disciplines including dressage, showjumping, sporting, eventing and show riding, as well as horsemanship.  Sometimes professional instructors come along to teach in a particular discipline.  Rally days are usually planned with reference to our 'Closed Trophy Days' or competition days, so that riders know what each competition entails and have a practice run beforehand.
Rally Days start at 9 a.m. sharp for gear check and concludes by 2:30pm. Lunch is held between 12.30 and 1.30 p.m, during which our canteen is open.
Riders must pass a gear check before they can take part in the activities.   We have a point score system for gear check with points awarded for attendance, punctuality, correct uniform and cleanliness of horse and gear.  Only pony club uniform and gear that is approved by the PCA and in good condition will be passed.  The Dural Pony Club Handbook lists suitable tack for pony club.  If you have any questions about new or unusual gear ask our club captain for advice.
AGES
Members are beginners on leads through to experienced, competitive riders from the ages of 3 to 24. Any rider under 17 years of age must have a parent or other designated adult responsible for them on the grounds when mounted. Only Dural Pony Club members 24 years and under are allowed to ride at our rally days and competitions.
UNIFORM
Pony Club Colours are Black & Gold.
In the photo you can see examples of the shirt, tie and jumper for rally day/winter uniform. Summer uniform/Sporting uniform is a polo shirt. All of these items are available to buy through the club. If you are not sure about any item of uniform or gear please check with the club before purchasing.
The Dural Pony Club uniform consists of:
White/Black Helmet – Due to the new 2017 changes of Pony Club helmets,  

If you have a EN1384 helmet with a manufacture date of 2015 or older – this can still be worn at Pony Club. It is only if your EN1384 helmet was manufactured in 2016 or 2017 that are not acceptable to wear at Pony Club. If you are looking to buy a new helmet, please use this quick guide before purchasing. Note that new helmets may carry both the EN1384 & VG01.040 marks which are acceptable to wear at Pony Club. – If unsure please ask or contact Poy Club NSW 

Beige jodhpurs
Elastic sided riding boots – smooth soles and heels.
White long sleeved shirt and DPC yellow and black striped tie
Black V neck jumper
Yellow DPC saddle cloth
Black & Gold polo shirt with DPC emblem for summer
Black & Gold Polar Fleece Casual Jumper (for rally days)
Only Associates (17 years and over) may wear long black boots or gaiters.
Chapettes can be worn by riders under 17 years at rally days only, but NOT in competitions
Full uniform is compulsory at rally days and competitions. Please see the handbook for details. The saddlecloths, jumpers, ties, fleecy jumpers and polo shirts are available from DPC. A DPC cap with emblem can also be purchased. If you are unsure about the suitability of any clothing or gear it is wise to check with the pony club before purchasing it.
OUR ZONE
Dural Pony Club is part of ZONE 23 of the Pony Club Association of NSW along with Arcadia, Avondale, and Forest Hills Pony Clubs.
Zone Championships are held for each of the disciplines each year so that our members can gain experience at a higher level of competition.  You do not have to be selected to attend but if you feel confident in that particular discipline it is a great way to improve your riding and to see the standard set by some of the other clubs.  Dural Pony Club usually organises one zone event each year.
The zone may also run regional schools where instruction from professionals is provided free of charge.
The highlight of the calendar is the zone jamboree, a two day competition held at year end which all members are encouraged to attend, not only for the competition, but to meet riders from other clubs as well.  You and your horse can stay overnight and join in the social activities on Saturday night actives.  Zone 23 website:  www.zone23.com.au
OUR AREA
As per of the Pony Club Association NSW we are also apart of Area 1 – this includes Zone 10,19, 22 & 26. Please click this link http://www.pcansw.org.au/clubs/club-listing which shows a list of all the Pony Clubs in NSW and their Zones.  There few competition in the year where you can represent Zone 23 in Area 1. You are to wear your Zone 23 Uniform.
DURAL CLUB TEAM
President – Greg Hankins
Vice Presidents – Poppy Patman & Hamish Mackie
Secretary – Cynthia Stanton
Club Captain – Amanda Wunderlich
Treasurer – Stephen Boyd
Senior Instructor – Lorraine Carter
Member Protection Officer – Greg Hankins
Safety Officer – Bree Chisholm
Club Corporate Member – Greg Hankins
Zone delegate – Cynthia Stanton
Reserve Zone Delegates – Julie Fitzpatrick & Sarah Wilton
Our Location